2020-12-24 04:25:45

/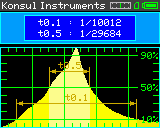 Brightness-based flash duration analysis for a Godox Witstro AD400 Pro studio flash unit (400 Ws) over 9 f-stops (power settings 1/256 up to 1/1).
Generated by the FDM-1T flash duration meter.
As an additional feature, the flash unit displays the t0.1 flash duration value to be expected for the chosen power setting.
The following… Read More »